Custom & Corporate Puzzles
The new kind of corporate gift. No more bottles of wine or food hampers. Treat your staff and clients to a customised jigsaw puzzle that promotes mindfulness and shows them that you care. At PieceHouse, we help you design gifts with a difference, so that you can continue to build the relationships that matter most.

- Doing puzzles has endless associated health benefits, which includes increasing productivity, improving mood and reducing stress see here to read more.
- Our high quality puzzles are built to stand the test of time, serving as a powerful and long lasting branding tool.
- Puzzles encourage focus and attention, and more time puzzling means more time engaged with your brand.
- PieceHouse puzzles can be designed to fit any budget, meaning you can spread the love without breaking the bank.
- Our fluid custom design process ensures that your gift reflects your brand ethos, and allows you to create tailored messaging to target your most valuable customers.
We can customise your gift from top to bottom. Corporate gifting can include:
> 500 or 1,000 piece puzzle sizes
> Custom artwork design by a New Zealand artist
> Custom packaging including your logo on the puzzle box
> Gift wrapping that suits your brand
> Gift card professionally designed for your brand
> Distribution of gifts directly to recipients
A jigsaw puzzle corporate gift is the gift that keeps on giving, with puzzle moments being able to be enjoyed for many years to come. 
Get the process started by enquiring at hello@piecehouse.co.nz
Alternatively, if you love one of our existing puzzles, contact us for pricing for a large order quantity.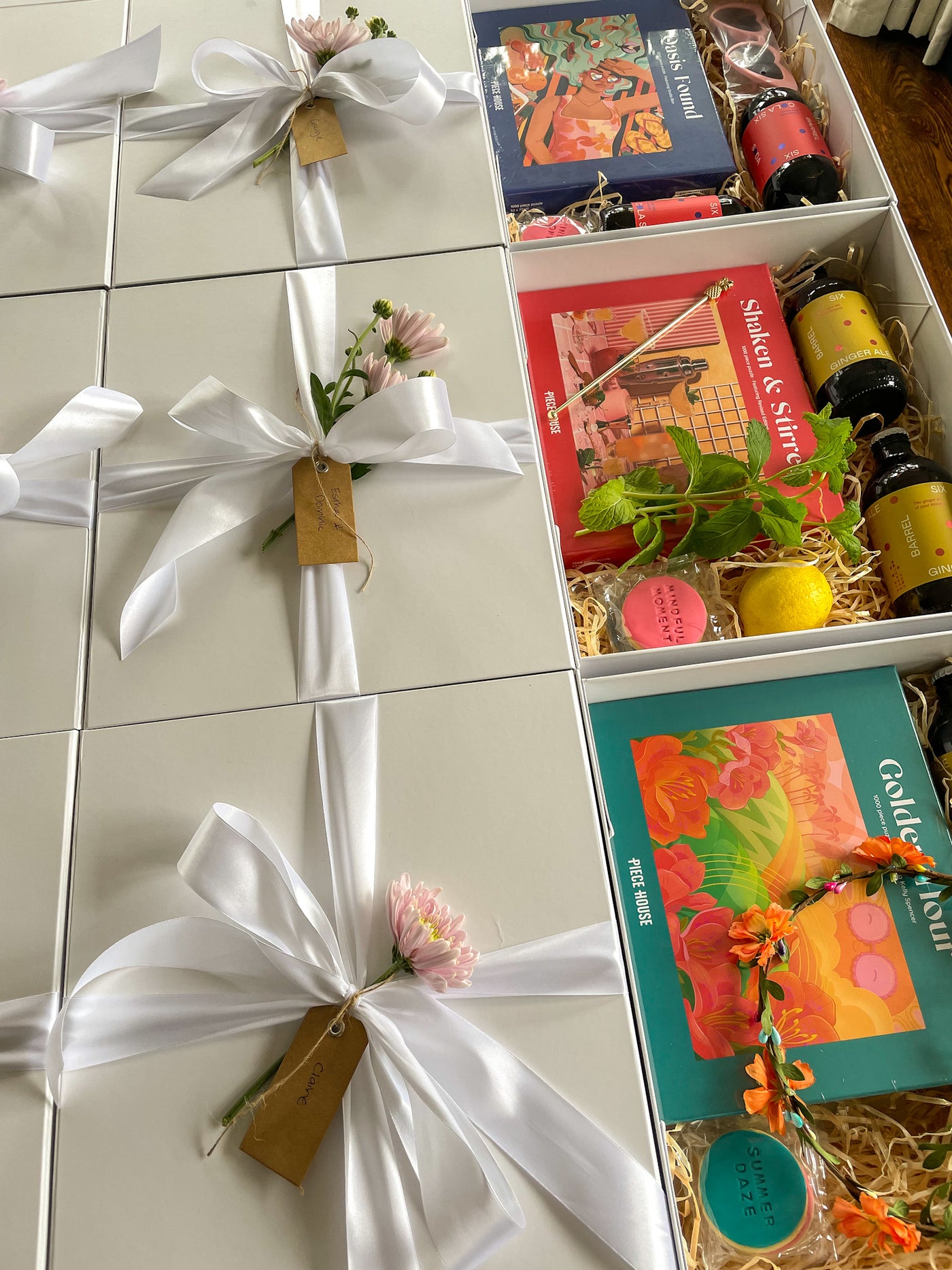 Make it a Puzzle Hamper
A puzzle hamper will set you apart from your competitors and demonstrate to your staff or clients that you genuinely care for them. Not only will they be treated to a custom puzzle but also receive other treats that compliment the puzzle and your brand, creating the ultimate experience. Packaged up beautifully in a premium gift box.

A beautiful, custom and unique gift idea.
Custom Puzzles
Make your brand stand out from the rest with a custom jigsaw puzzle specially for your customers. We can create a custom artwork design just for your brand aligned with a suitable New Zealand artist or if you have your own NZ artist in mind we can work with them.
Custom puzzles can include:
> Custom artwork design by a New Zealand artist
> Your logo on the puzzle box
Why PieceHouse for Custom & Corporate Puzzles
We take quality very seriously, take comfort knowing that you will be aligned with a premium product.
Our design expertise and attention to detail will mean your corporate jigsaw gift perfectly represents your brand and has a level of finesse you will be proud to be associated with.
With all details considered from choosing the perfect artist to the gift presentation having a on brand and premium look.Work with us direct, we will work with you to make sure everything comes together smoothly and can look after distribution. 
Get started
We would love to explore the opportunity to partner with you. Please complete the application form below.